Breeder Pet Food Program
Holistically Formulated Food, Treats, Supplements and Care Products

QUALITY * SAFETY * FRESHNESS

Life's Abundance premium dog and cat food are veterinarian-formulated with select ingredients to help your dog or cat achieve optimum health. We use a "fast-cook" process at low temperatures to help preserve the nutritional value of each and every wholesome ingredient. And we maintain strict inventory controls to ensure the quality and safety of our foods. 

Since we use only wholesome ingredients, our formula contains …
• No artificial flavors 
• No artificial colors 
• No corn or corn gluten
• No wheat or wheat gluten ​
Fresher food is more nutrient-rich. While leading brands stockpile tons of food for months on end, our healthy dog food is made weekly in small batches and ships directly to your door usually within 6-8 weeks of being made. 

Serving the pet community since 1999 ~ no recalls!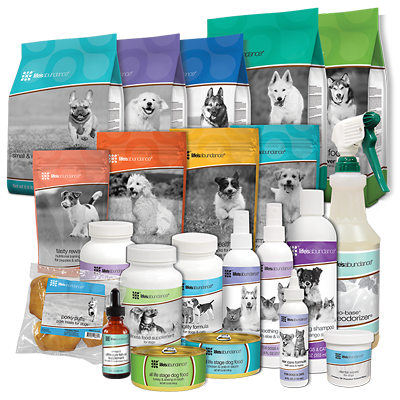 Your clients ALREADY entrust their beloved pets to you for being properly raised and nurtured.  So they trust you with their pet's nutritional needs.

Life's Abundance is a natural extension of your hobby or business. As a representative, you can earn an ongoing income for the life of the pup by offering holistically formulated, never-recalled pet products to your puppy buyers on an automatic shipment program that ship direct to their door. 

BREEDER PROGRAM
Breeders receive discounted pricing on dry food. The breeder dog food bags are 10% larger and cost the same as the retail bags. These bags are only for feeding your personal dogs. 
You can earn an ongoing income for the life of your puppies - no inventory or paperwork. Instead of recommending pet food and products and letting someone else earn a residual income on every purchase from your referrals, now you can start earning that ongoing income. The average pet food autoship lasts for years which creates a strong ongoing income for you. 

People have to feed and care for their dogs and cats every single day. Food and treats are already budgeted. You have an  opportunity to tell them about top quality products that are safe and effective that pet owners need and want.​

The average pet food autoship lasts for years which creates a strong ongoing income for you.

Request your free sample pack today
How can I participate in this breeder program?
It's easy! 
1.
CLICK HERE
to join our team and become a Life's Abundance Rep
2. Fill out and submit the Breeder Application Form 
3. Start receiving food discounts and get an extra paycheck for every order from your recommendation for the life of your pups. 
Our simple program gives you a fully functional eCommerce website ($10.95 per month) that you can link to your current website and earn commissions and bonuses from every order, month after month, year after year.  Your customers purchase direct from your site and Life's Abundance ships their order directly to their door. 

I am here to help you get started and succeed in building your home business. I have achieved the level of 5 star distributor as a breeder. We have all the tools necessary for you to be successful. Please reach out with any questions and I am more than happy to sit down and have a phone call to discuss more details with you. 

Alyssa | 720-441-4515| alyssa@blueribbonbreeder.com
Join Life's Abundance Today